TEFL Newbie Highly Commended at TRIP BASE
Trip Base has an excellent page featuring blogs about Teaching English Abroad. We are happy that TEFL Newbie as been featured as a best blog. We try our best. We try to keep it balanced and real and people seem to recognize that.
Go on over and give them a visit.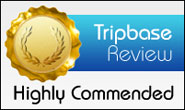 On the topic of TEFL type blogs, be aware of and pay attention to the perspective of the writer. And, just as you choose foods you like, select blogs that fit your frame of mind. I am a super believer that you can literally create what you want and I know that from my own personal experience. So, be sure you read the blogs of people who have been successful overseas.
Don't read the blogs of whiners, conspiracy theorists, expose artists, etc. I am not suggesting that you ignore potential problems, but I do believe that if you are seriously looking for scams and traps and tricks, you WILL find them. If you let your nature be positive and try to keep your orientation in that direction, you can and will succeed overseas.
TED's Tips™ #1: Cruise the internet a bit and see what is out there for you. Take a big portion of it with a grain of salt.
The BEST EFL Teaching Jobs in China: Government Colleges, Universities and Secondary Schools offer the most reliable and worry-free jobs in China. Click on the Link if you would like to Teach English in China